Shetland Wool Moorit Hand Spun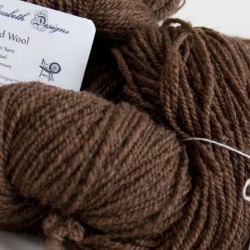 I spun this yarn for a customer in DK (3 Light) weight from some lovely moorit or brown shetland wool. It was spun from a combed preparation and I pulled off several staple lengths and held them folded over my finger. Spinning from the fold with a long draw and a very light touch, gave me a wonderfully airy and bouncy yarn that is not too fuzzy. I think it's the best way to spin this wool for knitting. It will last a very long time, it is more consistant and will show the stitch definition much better than a true woolen yarn but has all of the bounce and airy lightness of a woolen yarn. This method will also keep the wool from pilling as much … if at all. While the wool of the Shetland Sheep is not as "next to the skin" soft as the Merino and others like Polwarth and Corriedale, many wool lovers not only like to wear Shetland wool but prefer it to it's softer and less robust peers. Many use the finer Shetland for next to the skin wear and even for baby things.
The Shetland is a small sheep originating in the Shetland Isles. When the Rare Breeds Survival Trust was set up in the 1970′s The Shetland was considered a Rare Breed and was listed with them as Category 2 – Endangered. Since that time the Shetland has become more popular with many smaller farms and has graduated to Category 6 – Other Native Breeds. This is excellent news for us as spinners.
The Shetland produces a variety of characteristics in it's wool from the superfine wool from around the neck area that is chosen for Shetland lace shawls to the sturdier wool for use in garments that are made to last for many years. Shetland sheep are also very well know for the variety of shades and natural colours in which their fleece will grow. The Shetland sheep is hardy, adaptable and long-lived. Their wool has been used, traditionally, in fine shawls and Fair Isle knitting patterns.
Order Custom Handspun Shetland Wool in your choice of yarn weights. Design it yourself hand spun Shetland wool yarn