The First Pattern – Stretchy Cast off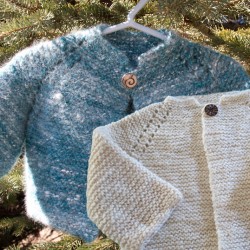 I've decided to write up some of my designs and have developed a whole new appreciation for the designers, especial those who self-publish. This is difficult work and requires some serious concentration and math skills as well as the ability to multi task on a whole new level.
Free Download on Craftsy or Ravelry (limited time only)

My first attempt will be the lovely Garter Stitch Baby Cardigan. It is so simple and fun to knit. The construction is top-down and there is so little shaping and NO sewing together. just put on the button and sew in the ends.
What will make my designs stand out? I want them to be elegant simplicity, classic and timeless, easy and straightforward to knit with lots of illustrations so that beginners can follow along without difficulty.
I want the pattern to be pretty and, of course, accurate and reasonably priced. I want to provide all the support needed via email at any time and I would love to see my customers go out and sell the things they make from my designs. I would so love to hear that they enjoyed knitting them.
 This pattern will introduce my Favorite Stretchy Cast Off
1) Knit 1
2)Knit 1 (2 sts on right needle)
3) slip both sts back to the left needle then
4) knit them together through back of the loops.
Repeat steps 2-4 to end.
Once you get used to this you can combine steps 3 & 4 into one movement.