Quicky Rolled Brim (somewhat slouchy) Hat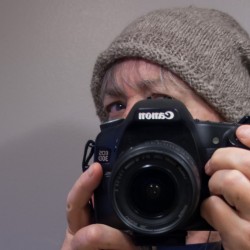 Don't laugh, there were no other heads around and I wanted to show it to you on someone! More photos below :0
Unlike you, I am not very fond of knitting a gauge swatch so  …  after I spun up some of the fleece I got out yesterday … I decided that I would knit a hat to determine my gauge. I really, quite like it. Great fit and not likely to give me "flat head" and definitely very warm. The textured look from the slubs in the handspun give it a wonderful personality. The simple designs helps to showcase the "hand spun-ness" of the yarn.
Order the handspun wool yarn from us here. "Design it yourself" custom handspun yarn. Or contact me with a specific request if you don't see your yarn listed.
Lots more wool yarns coming soon.
I am working on Rare Sheep Breeds and Breed Specific Wool Yarns now and hope to have them available to order soon (Feb – March 2013)
Quicky Rolled Brim Hat
Size
AdultMedium
Gauge
4.5 stitches per inch, 5.5 rows per inch
Needle Size and Description:
5mm needle 16 inch circular and a set of same in double points
Materials: about 125 yards of Worsted weight handspun wool  (approx 3  ounces)
Try the Handspun Eastport Alpaca. (More wool yarns coming soon)
Finished Measurements: 21 inches around. 9.5 inches high with brim rolled up.
For a hat that fits (no slouch) make body 1″ shorter for total length of 8.5″
Brim:
Cast on 94 sts. Place marker, join. (you know the routine, be carefull not to twist)
knit around for 4-6 rows for the st st rolled brim.
work 4 rows of K1, P1 ribbing for a better fit.
Body:
Work in rounds with stocking stitch (knitting every row) until you have 7″ (or desired length) from the bottom with the brim rolled up just as you would be wearing it.
**For a hat that fits, at the top, with no slouch at all just do 6 " here.
Crown: (about 2.5 inches)
On the next round (work 13 sts, k2tog) 2 times. Then (work 14 sts, k2tog) 4 times. [88 sts]
Work one round even.
Round 1: *Work 6, k2tog. Repeat from * around. [77 sts remain]
Round 2: Work even
Round 3: *Work 5, k2tog. Repeat from * around. [66 sts remain]
Round 4: Work even
Round 5: *Work 4, k2tog. Repeat from * around. [55 sts remain]
Round 6: Work even
Round 7: *Work 3, k2tog. Repeat from * around. [44 sts remain]
Round 8: Work even
Round 9: *Work 2, k2tog. Repeat from * around. [33 sts remain]
Round 10: Work even
Round 11: *Work 1, k2tog. Repeat from * around. [22 sts remain]
Round 12: Work even
Round 13: *K2tog. Repeat from * around. [11 sts remain]
Finishing:
Break yarn leaving a generous tail. Draw tail through remaining stitches on the needle. Pull gently to close hole. Weave in tails.