The Perfect Reversible Watch Cap The one my Guys like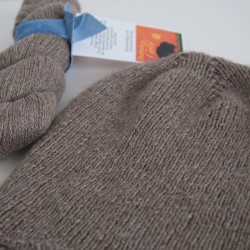 My guys like a light weight but warm hat, one they can scrunch up and stick in their pocket but when they put it on it needs to keep them warm! The folded over "cuff" should not be too deep and when it's folder over the hat sits just over the tip of the ears but when it's pulled down against the cold it goes right over those ears completely. I might call a hat with this kind of fit a skull cap or beanie.
This little watch cap fits the bill perfectly. Having knit and ripped quite a few times before I got it right I can now present you with a pattern for a cap that's super warm, "stuffs" nicely into your pocket and fits just right. I will make this pattern as a download, all pretty in a pdf with my lovely template and graphics soon but for now, so I don't forget how I did it, I will write it out here. This one's for Dan.
I used LUX by Buffalo Gold Premium Fibers (45% American Bison Down, 20% Cashmere, 20% Silk and 15% Tencel) and it was an excellent choice. I used it doubled to make it a fingering weight yarn but you can use any fingering weight as a single strand. A sock yarn would be perfect as long as you aren't knitting for a sensitive bald head. The lux would be perfect for such a person as this 🙂 as would many of my exotic luxury fiber hand spun yarns in fingering weight. If ordering from the handspun please let me know you are making the "Perfect Reversible Watch Cap" so I can spin it just right for this project.

I`ve chosen a few of my favorite handspun yarns for this project and put them on sale for you. Jan 2012.
Size: Adult Small (Medium, Large)
Finished Measurements: 15 inches around and 8.5 (9, 9.5) inches in length
Gauge: 7.5 sts and 10.5 rows = 1 inch in stocking stitch (11 sts and 10.5 rows = 1 inch in K1, P1 rib)
You will need:
approximately 200 – 250 yards of fingering weight yarn. If using the LUX, as I have done, you will need 2 of the 40 gram skeins of 330 yarns each. The finished hat in size small weighs about 45 grams so you cannot get one out of a single skein.
a 2.5mm circular knitting needle and a set of 4 or 5 in size 2.5 mm
Instructions:
With single strand of fingering or double strand of lace yarn (Lux) and the circular needles cast on 156 stitches.
Join in a circle and work around in K1, P1 rib until piece measures 6.5 (7, 7.5) inches.
Shape Crown:
Row 1: Work 11, *Double Decrease (slip next 2 stitches together knitwise, knit the third stitch, pass the 2 slipped stitches over) Work 23.  Repeat from * around ending with work 12.
12 stitches decreased over 6 miters. (144 sts)
This makes the nice mitre that looks good on both sides.
Row 2 and all even rows: Work even knitting the knits and purling the purls. (trust me, even when you knit 3 in a row it will resolve itself after the next decrease row)
Row 3: Work 10, *Double Decrease over next 3 sts, work 21. Repeat from * around ending with work 11. (132 sts)
Row 5: Work 9, *Double Decrease over next 3 sts, work 19. Repeat from * around ending with work 10. (120 sts).
Continue in this manner, decreasing 12 stitches every other round until there are only 12 sts remaining. Break yarn and thread through the remaining sts. Pull tight, secure and weave in your ends.