Posts Tagged 'cowl'
I'm making my Christmas presents and wanted to work with some cashmere so I thought this would be a nice little project that would work up fast and give the recipient some wonderful warmth and luxury this winter. It was really fast and such a treat to knit. This one's for Bethy.
I love this cowl and it was so fast and easy, a perfect "knitting as meditation" project.
BLOCKING: I blocked it with wires and pins and Wow, what a difference. I really stretched it to it's max when I blocked and probably wouldn't have stretched it quite as wide now that I see it dry. I think I prefered the fabric with a little more bounce and a slightly tighter fit. But that is personal taste and it's nice to have a choice. Different blocking choices can give you such different looks.
Pattern coming soon, check here to see if it's out yet.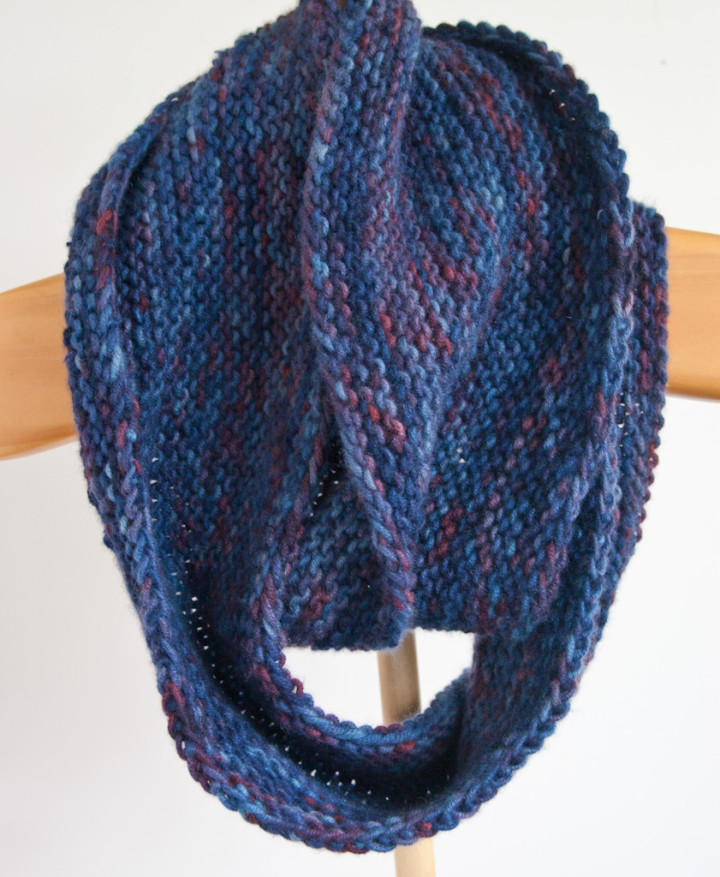 Oct 14
Just wanted to let you know I've finished the big Cashmere Cowl. I really like it and it's just the right length and width to go around 3 times but looks great at twice around also.
The Pattern Materials: Cashmere 12 ply Bulky / Chunky weight. buy it at
Handknitting.com
or
(email nancy@nancyelizabethdesigns for more info or to custom order the hand painted yarn)
 OR I can custom handspin some of this luscious yarn for you. Same email. 5-6 skeins of 50 grams each (approx. 300 grams) based on desired width (and budget 🙂 6.5mm circular needle. Gauge: 10 sts and 28 rows = 4″ or 10 cm over Garter Stitch Pattern Finished Dimensions: It will be 60-70 inches long approx. 8 inches wide.
The idea is to have it long enough to wrap around the neck x 3 with a little extra for styling. Very luscious and exotic in thick cashmere.
Directions:
Cast on 180 sts and join. Work in garter st in the round for 8 inches or desired width. Cast off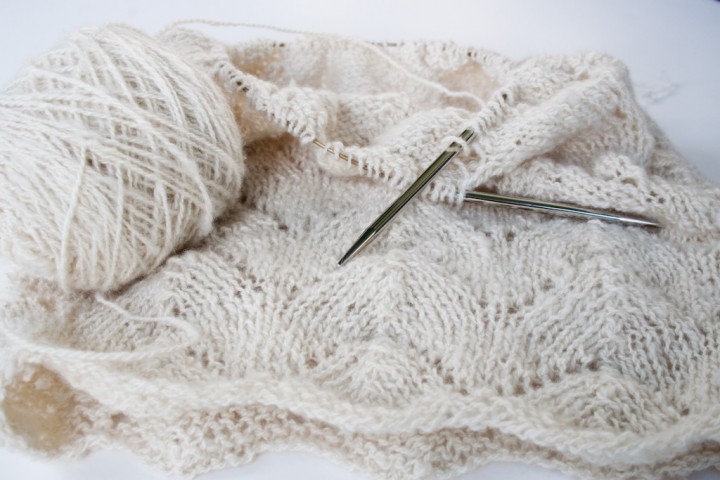 Oct 12
I've decided on a couple of designs for Cowls. I'm going to do a simple one, just once around the neck with a little drape and simple elegant lace design. I have a couple of traditional all-over lace patterns in mind.  I handspun some of my Mongolian cashmere fiber for this one in a fingering weight. I was really happy with the way it knit up. it's so soft and the drape is perfect for what I want. I'm thinking I will write out the pattern for this one and another one with the "old Shale" pattern on it. I think the same yarn would be perfect. Put them both in the same pattern and just have choice of stitch patterns with everything else being the same.
The Big Cozy Cowl will be very different. I am using the China Cashmere from my old business Handknitting.com. I have dyed it myself simply by sprinkling the dye powder randomly and baking it in the oven at 350 for 1 hour in a glass covered dish. The dye bath did exhaust itself and the colours look fantastic. this one is the bulky weight with 6.5mm needle. It will be 60 inches long and about 14 inches wide. The idea is to have it long enough to wrap around the neck x 3 with a little extra for styling. Very luscious and exotic in thick cashmere. Cast on 180 sts and join. work in garter st for 14 inches or desired width.
This is all I have so far because Ive tried so many patterns and different size needles etc. and had to rip it out about 5 times. I have settled on the pattern written above. Just the right melding of cozy, thickness, drape and attractive but simple allover pattern.