A Few of my Works in Progress
I've been getting TONS of requests for custom work in the last few months. Part of that is because the Custom Handknit Sweaters page managed to get to the number one position in google for any related search terms. I know that's a good thing but I just can't knit that fast 🙂
The Mohair Vest: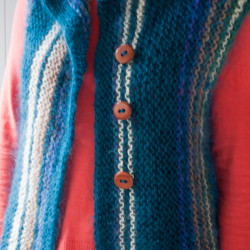 I had a friend bring me a bag of various mohair yarns from a yard sale and ask me what I could do with them. It was a wonderful challenge because she knows what to wear and always looks so fabulous in everything. There was only enough for a vest so we agreed upon a great design by Sally Melville "The Asymmetrical Vest" from her book The Knitting Experience: Book 1: The Knit Stitch.
I liked the pattern but it was written for beginning beginners and there was just so much text to read every time there was a direction to follow. I found it confusing and had trouble keeping my place. Just my personal preference, I would choose a graphic pattern every time to knit from.
I used 2 strands of the mohair together and the suggested needles. The biggest issue with this vest was the ends every time I changed colour. I tried weaving them in and found it was going to be very difficult to hide them so I just started knitting them in where ever I could and it seemed to work better. I had to be very careful with blocking. It could change in either width or length with a light pull when wet. It took a while to get it into the correct shape to dry. The wooden buttons really worked out well. Marilyn just loved it.
The Harry Potter Sweater "Weasley"
I'm using Knit Picks Wool of the Andes for this sweater. I will knit the body and add the initial in duplicate stitch at the end. I will avoid intarsia at all costs, just a personal "thing" with me.
I started this by knitting a good big swatch that gave me a gauge of 18 sts x 24 rows = 4″ before wash and block. It grew when wet and I thought it might stay there but it bounced right back when it dried.
The pattern gauge is 16×24 so I had to adjust the number of sts to cast on. I actually need 37.5 for 4 inches of ease so decided to cast on the adult medium 82 sts plus 2 selvage sts.
So far this is a great meditative knit. 25 " of straight st st for the back. OMmmmmm.
The pattern for this sweater is designed by Alison Hansel and published in Charmed Knits  as well as free online at Canadian Living Magazine