Archive for June 2013 | Monthly archive page
I am just thrilled to be releasing the final edit of my latest knitting pattern for download.
"Atherton"  A Top Down No Sew Hoodie with Cable Trim for Kids
This is a design that is very close to my heart. One of my own personal favorites developed over years of refining the pattern to fit well, look good and be a joy to knit. Available now as an instant download Here
Also available at   Craftsy    Ravelry   Etsy
A versatile basic Hoodie Sweater Pattern to knit from the top-down all in one piece. For kids in 10 different sizes from 2T to size 16 or Adult small with about 4″ of ease for a comfy "sweatshirt like" fit. A Classic, timeless design with simple raglan cables and a new twist on construction carefully designed for smooth, uninterrupted nonstop knitting. One piece top-down construction helps you get the perfect fit every time. Knit it with or without the "Afterthought Wallaby Pouch" My kids actually love to wear this. It's comfortable and looks great too.
This is a "Meditative" knit with easy repetitive shaping that flows without interruptions. Before you know it you're finished and the only sewing to do is the top of the hood and minimal ends to weave in.
I find myself knitting this again and again with simple variations that make it new each time.  Make it a cardigan, lose the hood, add pockets or a stitch pattern for texture. Lots of ideas for variations included as well as a tutorial on an "Afterthought Pouch Pocket" that you can add to any knit.
You are unlikely to find an error now that this pattern has been thoroughly edited by "The TECHsorcist" – Technical Editing by Eleanor Dixon
Skills Required:
Working in the round on circular needles and double pointed needles; knitting, purling, increasing, decreasing; simple cable pattern
Sizes
Child Sizes: 2T (4T, 5, 6, 7, 8, 10, 12, 14, 16) To fit chest:  21 (23, 24, 25, 26, 27, 28, 30, 31.5, 32.5)"  [53.5 (58.5, 61, 63.5, 66, 68.5, 71, 76, 80, 82.5) cm] Shown in photo – size 6 with 4″ [10 cm] of ease. 
Finished Measurements
Chest at Underarm: 25.5 (27.5, 28.5, 29.5, 30.5, 31.5, 32.5, 34.5, 36, 37)" [65 (70, 72.5, 75, 77.5, 80, 82.5, 87.5, 91.5, 94) cm] Finished Length: 15 (16.75, 18, 19, 21, 22.5, 24.25, 26, 27, 28)" [38 (42.5, 45.5, 48.5, 53.5, 57, 61.5, 66, 68.5, 71)cm] Sleeve Length:  9 (10, 10.5, 11, 12, 12.5, 13.5, 15, 16, 17)" [23 (25.5, 26.5, 28, 30.5, 32, 34.5, 38, 40.5, 43) cm] Materials
Yarn Nancy Elizabeth Designs Custom Handspun Merino Wool and Silk  (1 oz/28g, 40-50 yds/36-46 m,  85% Merino Wool/15% Tussah Silk), 13 (15, 17, 19, 21, 22, 24, 26, 27, 30) oz worsted weight yarn [CYCA 4]
Red sample shown in Grevillea colorway
OR 640 (760, 850, 920, 1035, 1105, 1265, 1420, 1536, 1625) yds [595 (705, 785, 850, 955, 1045, 1170, 1315, 1420, 1500) m] of any worsted weight natural fiber yarn in stated gauge
Blue sample shown in Berroco Pure Merino in #8581 Regatta colorway
Needles
US size 9 [5.5 mm] or size needed for correct gauge US size 8 [5.0 mm] or 1 size smaller than gauge needles
20-32″ [50-80 cm] circular needles – both sizes (choose needle length according to the size you are making, must be shorter than the finished chest measurement and long enough to accommodate all of the yoke sts) double-pointed needles (set of 4-5) for sleeve cuffs – both sizes
Notions 8-10 stitch markers 2 stitch holders or waste yarn for sleeves Toggle closure or button (optional)
Gauge
18 sts and 24 rows or rnds = 4″ [10 c] in St st with larger needles after blocking.
Notes: Simple raglan cables enhance this classic all-season hoodie which is  worked in the round with basic shaping, easy-to-memorize stitch patterns,  and no finishing. Allow a generous amount of ease for a comfy, sweatshirt-like fit. Detailed instructions provided for ten sizes with plenty of ideas for variations and customization – knit it again and again without ever making the same sweater twice.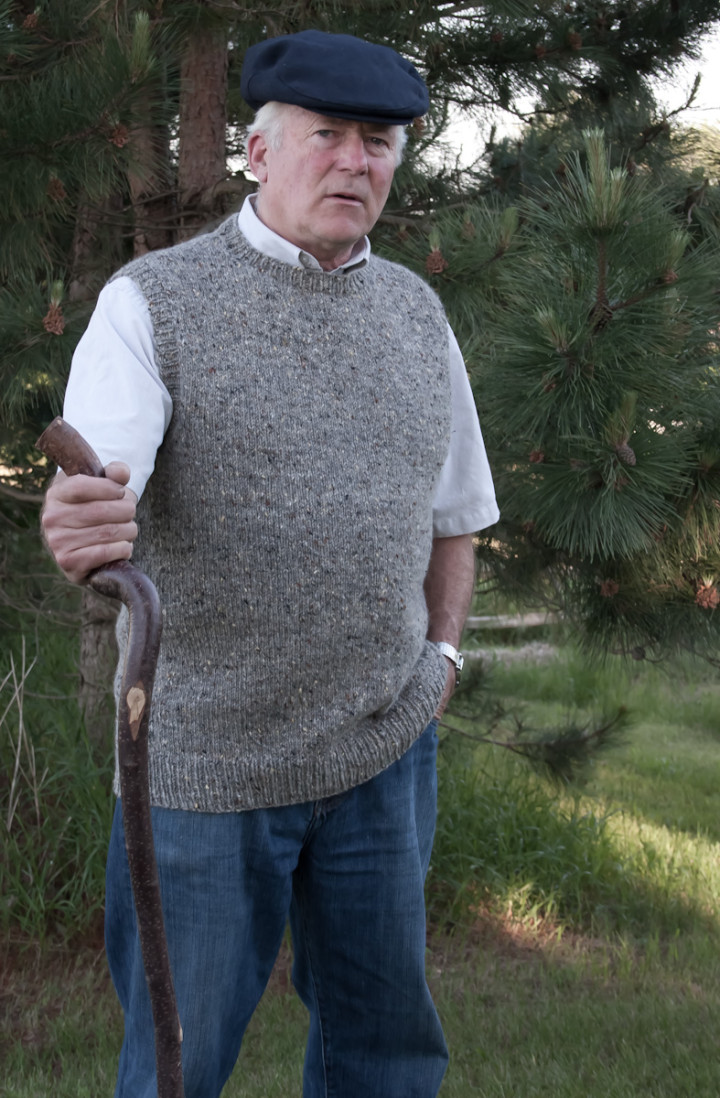 Jun 02
When a customer requested a custom knit sweater vest with a round neck I quickly found out why it had to be custom-made as well as custom designed. It is surprisingly difficult to find a vest without a v neckline in ready-to-wear or even in a knitting pattern.
There were a few measurements that I felt were critical to fit. I had my customer email me the finished width (1/2 circumference) of the vest as well as the desired length and finished width at shoulders. I usually suggest that if they have a sweater that fits well this is the most reliable way to get out new one to feel good on. This left the depth at the underarms, the band widths and the neck width and depth up to me as the designer.
I started with a drawing and a swatch. We decided on a fairly unknown yarn from a very well-known shop. The Blarney Woollen Mill is in Ireland at the same location as the famous Blarney Stone. They have lots of wonderful knitwear but only one yarn for sale and that in only 3 colours. Fortunately one of them was exactly what we wanted for the vest so I ordered the yarn at a very good price and the shipping was free as a nice little bonus.
I did a bunch of swatches and I am very glad I washed them before I cast on because the knitting gauge before and after washing was significantly different and I had to rely on my post-wash swatch gauge for not only sts to cast on, increase and decrease but also for the length as I used row counts instead of inches. I got a little nervous a few times but I kept going, believing in my swatch and was rewarded with a finished vest that measured exactly what I was aiming for.
I have the knitting instructions all written out and sized in men's sizes from 32″ to 60″ chest. I will probably knit it again in a more common yarn, at least a yarn with a more common gauge and tweak the numbers. It should be available to download as soon as I can get it finished and edited.